What We Do
From feature films to television programs and commercials to industrial films, we bring great stories to life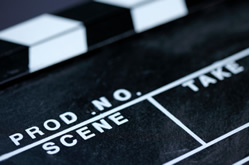 Angelina Pictures is a full-service award-winning entertainment company. From feature films to television programs, commercials to industrial films, we offer a wide variety of film and video production services. We have worked with major television networks, start-up companies, and everything in-between. We work in all genres, with a specialty in family entertainment. We are currently in development on several movie projects for family and mainstream audiences.
Angelina Pictures also offers commercial and corporate production services and has produced numerous industrial films, corporate videos, commercials, promos, sales and marketing reels, and web video projects. We oversee everything from concept through post, and our services can be tailored to your needs. We shoot in HD and SD formats, and offer multiple delivery options for distribution channels including theatrical, television, web, and presentation. Whatever the project, we can deliver a high quality, creative solution to help you meet your goals.
If you have a feature film script that you wish to submit to the company, please click on the link below for more information.